VH-RHG (5) Piper PA-30-160 Twin Comanche (c/n 30-694)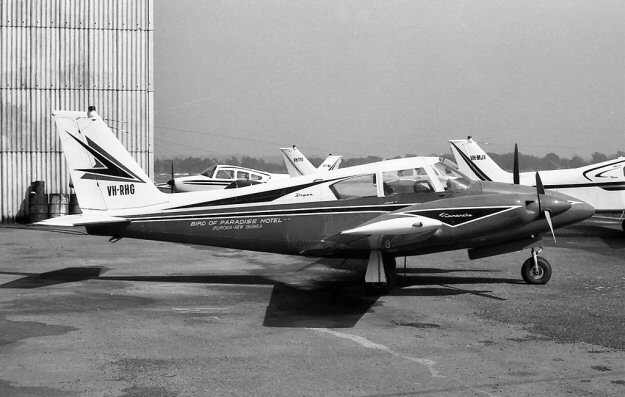 The fifth aircraft to carry the registration, this Twin Comanche was registered in April 1967 to
renowned wartime fighter ace and PNG pilot Robert Henty Maxwell (Bobby) Gibbes. His
personal mounts had previously included several Cessnas, a Norseman and a Saab Safir
. Gibbes had commanded 3 Squadron RAAF in North Africa during World War II with officially
10½ victories but likely more. After the war he went to Papua New Guinea and formed Gibbes
Sepik Airways, notably an operator of Junkers Ju52/3m trimotors and the odd Lockheed 18-56
Lodestar or two. After he sold his airline in 1958 to Mandated Airlines, later taken over by
Ansett, he turned his attention to coffee plantations and hotels . When David Carter took the
above photo at Bankstown in 1969, -RHG was marked Bird of Paradise Hotel Goroka.
Gibbes sold his PNG businesses in 1972 and spent much of the next decade on a yacht in
the Mediterranean before settling in Sydney, where he built a Colomban Cri Cri, VH-BUU,
powered two tiny 15hp engines . Grounded due old age in 2002, Gibbes died in 2007 at the
age of 90. His Cri Cri was still registered in October 2016.
Meanwhile, VH-RHG was sold when Gibbes left PNG and in mid 1976 was owned by the
Gorian Pastoral Company at Burren Junction in north-western NSW. It was still current in
October 2016 and based at Bathurst.