VH-RFK Cessna 182B Skylane (c/n 52165)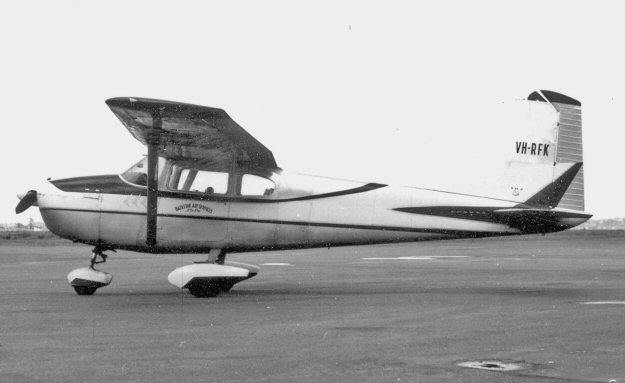 This 1959 model Skylane has Hazelton Air Services titling on the cabin door. It was registered as a
new aircraft by Hazeltons on 7 September 1959 and used for charter from their base at Cudal, NSW.
Ostensibly it was ex N7165E, although I suspect this was a "Trade Plate" delivery rego, since just
about every 1959 182 in my US collection of negatives carries a "T" registration. The photo above,
from the Geoff Goodall collection, was taken at Sydney Airport, circa 1962. Sometime around 1963
Hazelton's rebuilt it as a taildragger and fitted a hopper for crop dusting and it joined the company's
fast growing fleet of agricultural 180s. It suffered a very nasty crash following take-off from a prop-
erty near Cowra, NSW in September 1964 and was described as written off. Testimony that it was
not, and was completely rebuilt, is provided by the photo immediately below taken by Michael Croker
at an air show at Orange, NSW when it looked pristine (albeit a bit muddy) and indistinguishable from
a 180. Sometime after its career with Hazeltons it was reconverted back to conventional tri-gear as
seen in the contemporary shot at the foot of the page taken by Ian McDonnell at Luskintyre, NSW
in November 2008.