VH-REL Cessna 310B (c/n 35590)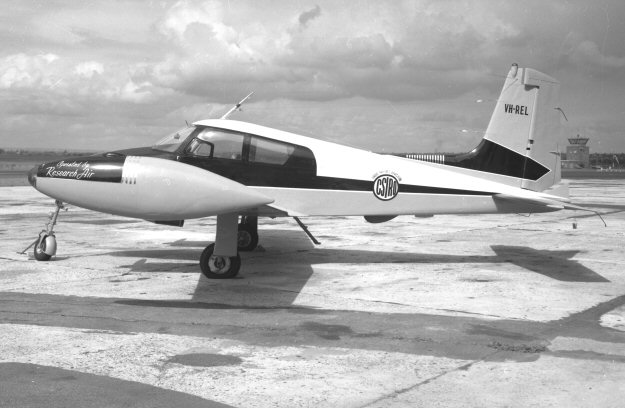 This was one of two Cessna 310Bs acquired by the CSIRO in November 1957. It departed San
Francisco formating with VH-REK on 21 November 1957. They were the first light aircraft to make
delivery flights across the Pacific. VH-REL was piloted by Phil Lightband, a New Zealander. Navigator
was Bill Withers. Both aircraft spent five days at New Plymouth, NZ where they were modified to
withstand operational stresses of +5G. The aircraft arrived in Sydney on 5 December 1957 to be
greeted by a civic reception hosted by the Rt. Honourable Richard Casey MHR (later Lord Casey).
The silver iodide burners, which were manufactured in the Radiophysics workshops at Sydney University,
were fitted later by Rex Aviation at Bankstown under the direction of the Radiophysics Division of the
CSIRO. The aircraft were operated on behalf of the CSIRO by Air Research, a company set up
for this purpose by Rex Aviation. VH-REL was sold in July 1967 to Bill Suhr's Peninsular Air Serv-
ices at Moorabbin, and later to other owners. It was cancelled from the register on 2 April 1979
"at owner's request, and withdrawn from service". It sat more or less derelict in the same spot at
Max Hazelton's airfield Cudal, NSW for years in the late 1970s which is where Mike Vincent's shot
(below) was taken in October 1976, with -REL still in Peninsular titling. At the foot of the page is
an historic picture from the Ben Dannecker collection of both -REL and -REK at Oakland, Calif,
prior to their trasns-Pacific flight.