VH-REJ (3) Reims FR172E Rocket (Cessna 172E) (c/n 0026)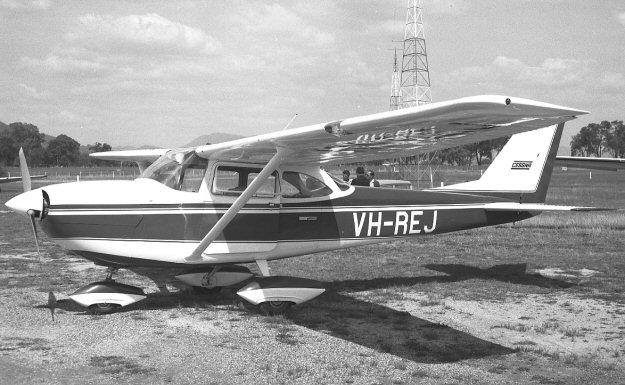 In 1960 Cessna acquired a 49% interest in Avions Max Holste, renamed the company Reims
Aviation SA, and commenced to build Cessna models for sale in Europe. The Reims Rocket
was an uprated model 172 and was unique to the French company. VH-REJ was one of three
new production FR-172E Rockets imported from France by Rex Aviation Ltd in 1968. (The
others were VH-REH and VH-REV). .-REJ was initially registered to Rex in September 1968
and Geoff Goodall's shot (above) was taken on the 27th of that month at Mudgee NSW. It was
probably being demonstrated to the local aero club. ( Geoff advises that at the time he was on a
quick walk around during an Airlines of NSW F.27 turnaround while on cockpit famil during his
ATC training course). The photo of the Rocket below was taken by Ian Mackenzie at Moorabbin
shortly afterwards in November 1968. VH-REJ was later transferred by Rex Aviation to associated
Cessna agents Rossair at Parafield, then sold to Masling Aviation at Cootamundra, NSW. On 5th
December 1970 there was a disastrous fire at Masling Aviation's hangar at Cootamundra (arson?)
resulting in not only destroying the hangar but also the Rocket VH-REJ plus Cessna 310I VH-RLY
and Cessna 172K VH-DZX.

(Jack Masling went on to reform his company from a sales and maintenance FBO into Masling Air

Commuter, flying scheduled airline services with Twin Bonanzas, then Queenairs and Bandeirantes).