VH-RDZ Cessna 402 (c/n 402-0168)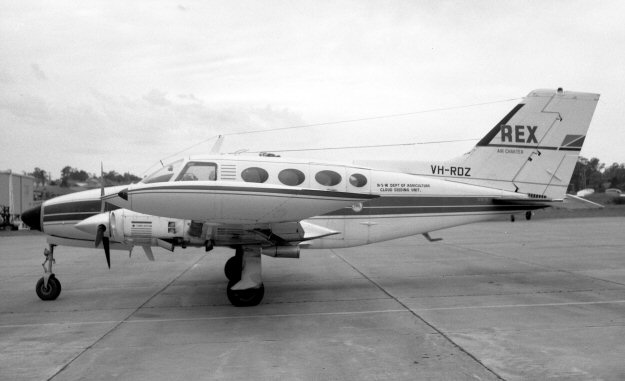 VH-RDZ was another aircraft used for cloud seeding operations. Originally registered in January
1969 to Commercial Aviation Pty Ltd of Bankstown it was later chartered by the NSW Dept of
Agriculture from Bankstown Cessna distributors, Rex Aviation. Greg Banfield's shot was taken
at that venue on 31 October 1974. I have enlarged the rear fuselage titling below. This Cessna
had been imported from New Zealand where it was previously registered ZK-CSX. Shortly
after this photo was taken it was acquired by Island Air (Pty) Ltd of Toowoomba, Qld, and it
finished its days with Air Mount Isa who cancelled it from the register on 20 May 1999, as parted
out for spares. The rego VH-RDZ was then used on a 402A (402A-0125) which is still current.