VH-RCE Cessna 185A Skywagon (c/n 185-0343)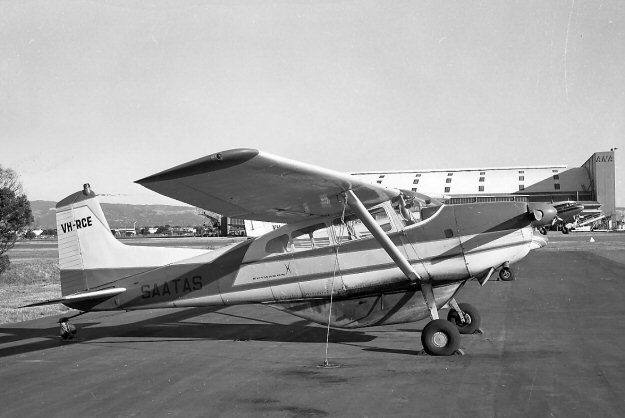 This aircraft had originally (and erroneously) been registered VH-RCQ. "CQ" was a prohibited
registration due to its possible confusion with the radio communication Q-Code VH-RCE had
been imported in 1962 (previously N4143Y) as VH-DMD the second, and purchased by SA Air
Taxis from Muir Aviation in the Northern Territory in 1965. Seen here at Adelaide Airport in Dec-
ember 1966 in the above shot by Geoff Goodall, it carries SAATAS markings, since by then SA
Air Taxis had been renamed SA & Territory Air Service. In Geoff's B&W photo above the red
SAATAS on the dark blue background is hardly discernible, whereas in John Wheatley's color
shot below it is clearly visible. This company had bases in Adelaide and Darwin. Several years
later SAATAS expanded into West Irian and named its subsidiary SAATAS East Indonesia Pty
Ltd with Queenairs and even a Grumman Goose.