VH-RCB Cessna 185A Skywagon (c/n 185-0298)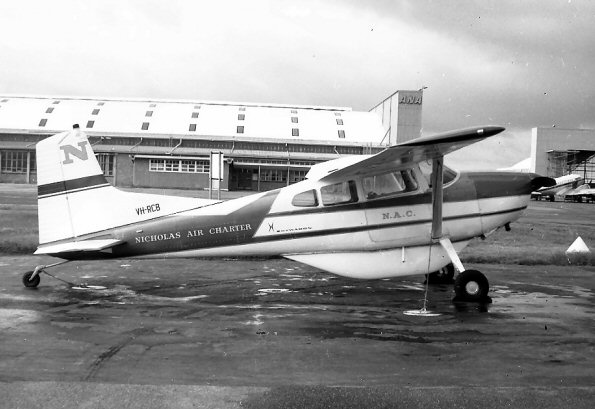 A Geoff Goodall photograph taken at Adelaide Airport in May of 1964. Nicholas Air Charter
were based at Moorabbin, Melbourne, and had purchased VH-RCB new in March of 1962.
They had just bought out SA Air Taxis and had transferred their aircraft from Moorabbin to
Adelaide - West Beach. VH-RCC, their Avro XIX, was another. NAC was a division of the
pharmaceutical company that made Aspro, and used the VH-RC block for the aviation company
manager Richard Cavill. Interestingly, and as coincidences go, the Aspro factory (painted bright
pink) was situated at the corner of Waverley and Warrigal Roads about 200 meters from where I
used to live in Glen Waverley, Victoria in the mid 1950s. NAC later took over Skyways, Moor-
abbin and renamed themselves Nicholas-Skyways, leaving SAAT under its own name at Adelaide.
Geoff's second shot (below, same venue but in October of that year) shows the aircraft after
SA Air Taxis titling had been applied, although still with the Nicholas Air Charter "N" on the fin.
VH-RCB crashed on 6 August 1969 at Barren Range, WA and was written off.