VH-RAJ (2) Wren 460 (c/n 5-460-182G)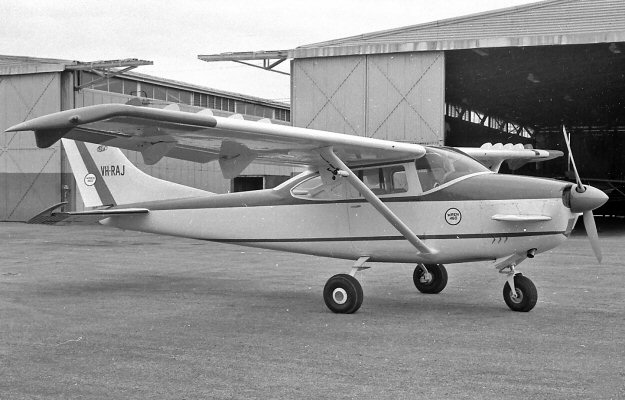 The Wren 460 was a conversion of the Cessna 182 airframe that had full-span double-slotted flaps,
movable spoilers to assist the ailerons with roll control and a movable high-lift canard. Later models
offered a reversible pitch propeller for steeper approaches, and shorter landing runs. The aircraft was
marketed as the only safe STOL aircraft. The company was seeking approval for landings under
conditions of zero visibility shortly before it went into bankruptcy in the late 1960s. VH-RAJ was
seen at Moorabbin on 19th November 1964, having just been rolled out after assembly from its ship-
ping container from USA by Schutt Aircraft. Photo by Peter Limon. Five days later it was added to
the Civil Register to the Lutheran Mission, Lae, Papua New Guinea and departed on the long delivery
flight to New Guinea. It later went on to a long list of owners in Australia and is still current. The
contemporary shot below was taken by Barry Maclean at Denilliquin, NSW.