VH-PYS Piper PA-23-250 Aztec (c/n 27-385)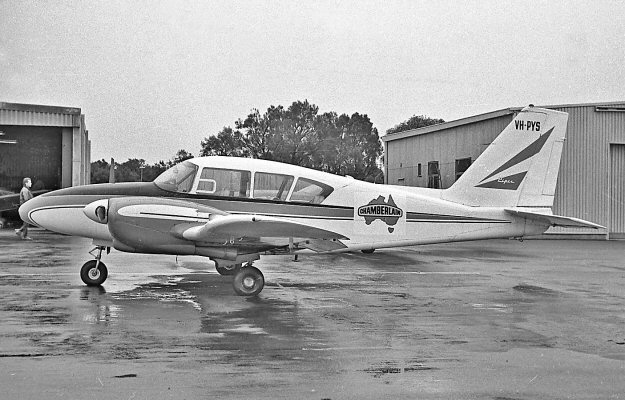 Jandakot, Perth, June 1968. Photo by Geoff Goodall. This aircraft began its Australian career with
Avis Rent-a-Plane as VH-AVX in April 1965. It was sold to Murchison Air Charter of Perth in
September 1966 becoming VH-RTF. . In July 1967 it was traded to Piper agents Westavion Pty
Ltd on a Comanche 250 registered VH-PYS. DCA approved Westavion's request for a registration
swap between the two and the Aztec remained with Westavion (as -PYS) for the next two years.
It was based in the iron ore mining area in the Pilbarra District in the north of Western Australia.
The photo above shows it while it was in use with the heavy earth moving equipment manufacturers
Chamberlain, whilst below another Goodall shot taken at Jandakot in June 1972 was when it was in
on a charter flight, having been sold by Westavion to the large regional NSW charter operator Davey
Air Services of Dubbo, NSW. Davey had several bases in outback NSW.