VH-PWO Aero Commander 500S (c/n 3055)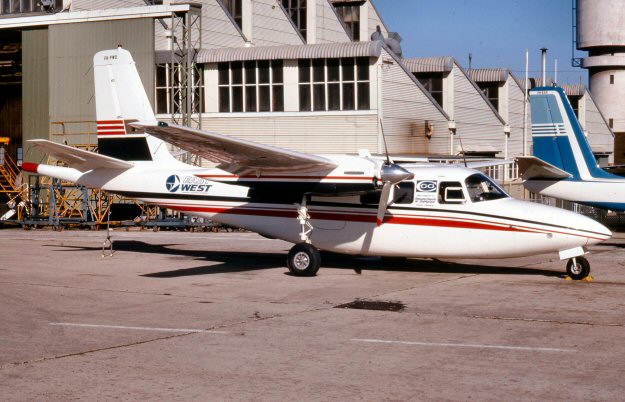 This 500S Commander was imported in December 1969, ex N9072N. The photos in this entry
are all by Greg Banfield. Above it is seen at Essendon in May 1970 in East West General Aviation
Division titling with 'Under Charter to Compagnie Generale de Geophysique Paris France' aft of the
cockpit window. Note magnetometer probe . Incidentally, the blue Commander to the right was
VH-EXA. VH-PWO then had a couple of periods wherein it was re-registered N10022 (23 July
1971 to 27 September 1971 and 15 March 1972 to 12 September 1973) before coming back onto
the Australian register as -PWO again. The shot below shows it at Mascot on 7 January 1975 when
it was on the asset register of Executive Air Services (Pty) Ltd, dba as Executive Airlines, sans magnet-
ometer. Clearly its geophysical survey work duties were not over, however, since it was refitted with
the probe and was photographed again by Greg at Mascot in July 1982 (bottom of page) when work-
ing for Geoterrex. It was subsequently re-registered VH-UJU on 24 December 1991, possibly after
being off-register for a period of time? . It is still (2011) current.