VH-PWM Douglas DC-3C-S1C3G (c/n 11970)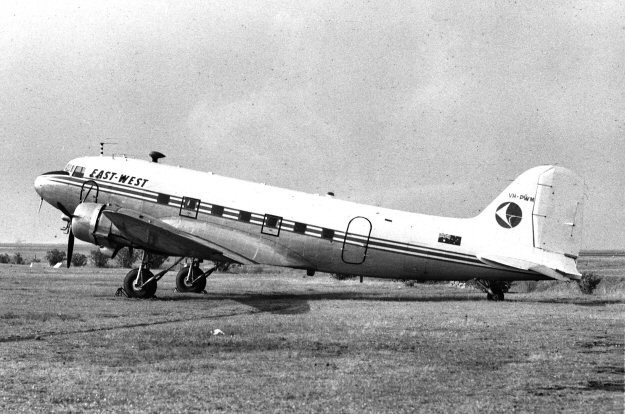 This was the former VH-EWB of East West Airlines, taken on charge by them in 1958. It had
previously been with the RAAF since 1943 as A65-21 (call sign VHCTC). In November 1967
it was re-registered VH-PWM. Greg Banfield's (rather grainy) shot above was taken at Mascot
in December of 1971. From the early 1970s until it was sold in New Zealand in 1986 as ZK-AMR
it served with a variety of different airlines including Queensland Pacific Airlines, Bush Pilots Air-
ways, Air Queensland, Connair, Northern Air Lines and finally Rebel Air in whose colors it is seen
in the color shot (below) by Geoff Goodall at the 1985 Mangalore air show. In New Zealand c/n
11970 worked freight operations out of Wellington to Blenheim, Nelson and Christchurch with
'Fieldair Freight' titles. In 1993 ZK-AMR was sold to Morris Catering, painted white overall, and
used for support work with the UN in Cambodia and subsequently in Somalia and Kenya. It has
been reported as wrecked at Harare, Zimbabwe. Given the unlikely hood of any aviation enthusiast
(at least in their right mind) of visiting that barbaric nation, we'll probably never know what really
happened to poor old A65-21.