VH-PWD Piper PA-32-300 Cherokee Six (c/n 32-40194)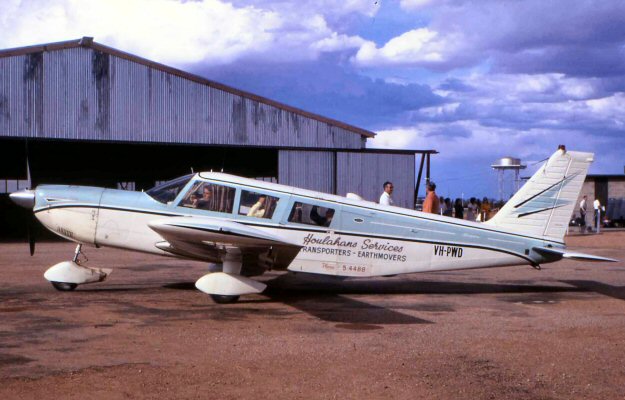 Registered new in July 1967 to Piper dealers Westavion, of Jandakot, Perth, this Cherokee Six
was sold to earth moving contractors Houlihans Services of Freemantle, WA. They sold it in
Papua/New Guinea in July 1973 where it became P2-PWD based at Kieta. Three years later,
in September 1976 it moved south again and was restored as VH-PWD. It was acquired by
David Cosh of Copper Creek., NSW who also owned a Chipmunk and a Proctor. Photo
above by John Wheatley. Venue unknown. On 13 March 1987 the aircraft forced landed and
was written off having just taken from from Grafton, NSW headed for Boggabilla, NSW.
Apparently it had been stored outside for a couple of months prior to the flight and moisture
appears to have accumulated in the magnetos. The engine misfired and eventually caught fire.
The pilot and passenger were not seriously injured and managed to extinguish the resultant fire
after vacating the aircraft. VH-PWD, however, was totalled.