VH-PUV Grumman G-164 Ag Cat (c/n 441)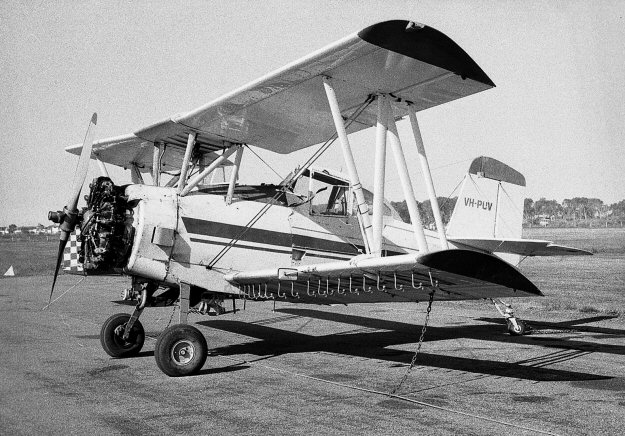 Clearly designed for functionality rather then good looks, the Ag Cat was first flown in May 1957.
When Grumman was absorbed into Gulfstream American, production of the Ag Cat was handed
over to Schweizer Aircraft of Elmira, NY., who have produced most of the 2000 built. VH-PUV
was first registered in May 1967 to dealers/importers Aerial Enterprises Ltd of Brisbane (ex N929X).
. It was quickly sold to Western Aerial Services at Cunderdin, WA and, after three year service as
an agricultural sprayer in the WA wheatbelt, was sold in NSW, and later to Cropcair Aviation, back
in Brisbane. . Geoff Goodall's shot above was taken at Mackay, Qld in August 1974. Two months
after this picture was taken the Ag Cat was seriously damaged in an accident near Mackay on 22
October 1974. The remains languished until 1981 when they were sent to New Zealand ostensibly
as parts for ZK-MEW. However, in the event, the airframe underwent a complete restoration at
West Melton for Pionair. This raised some certification issues, but these were sorted out by a visit
from the CEO of the AgCat corporation, and the aircraft was registered in New Zealand in August
1996 as ZK-MEX. It was later leased to De Bretts Aviation at Taupo, and has subsequently
changed owners a couple of times, but remains at Taupo, operated (incredibly) as a tourist sight-
seeing machine! Phil Treweek's photo below shows it sitting idle one day at Taupo.