VH-PQA Piaggio P.166B Portofino (c/n 410)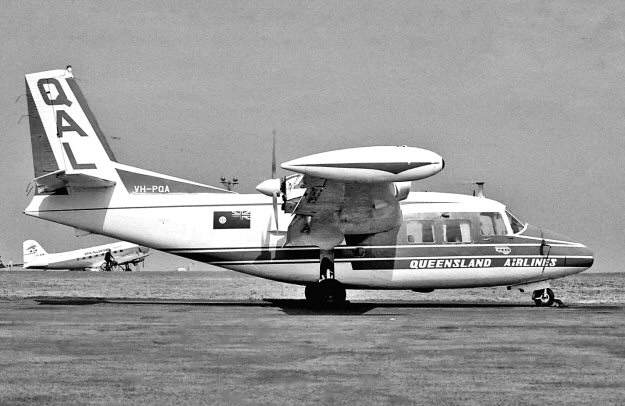 VH-PQA was the prototype P.166B Portofino, of which only six were built. It was purchased by
Queensland Airlines in 1963 for £88,000, and began operating the Brisbane-Coolangatta service
in January 1964. It was withdrawn from service in 1966 (replaced by a Fokker F.27) and flown
to Essendon where the above photograph by Newell Bell (via the John Hopton Collection) was
taken in December of that year. Later in 1967 it operated local services for Airlines of NSW.
Geoff Goodall saw it at Griffith, NSW (below) in July of that year as it was waiting to take the
08.00 hrs flight back to Sydney. By 1968 -PQA was registered to Forrester-Stephen and used
by their associate company, Commuter Airlines. It was then sold in January 1970 to Wellington
Districts Aero Club in New Zealand as ZK-DAI. Returning to Australia in 1973 it once again
reverted to VH-PQA, and was registered to Hookway Aviation Pty Ltd of Clayton, Victoria.
It was sold toWards Freight Services Pty Ltd of Essendon Airport in December 1974, and later
to Airfreighters Pty Ltd. Greg Banfield provides a shot of it (foot of the page) in Airfreighters'
livery, taken at Essendon in December 1974. -PQA was finally struck off the register in Feb
1976 and presented to the Airport Fire Service, for non-destructive training, but was accidentally
burned during an exercise when the wind changed. The hulk was later removed to the Airport Fire
Service at the new Tullamarine Airport. The image at the foot of the page taken during the
accidental fire is from the archives of the Civil Aviation Historical Society.