VH-PPE Piper PA-28-180 Cherokee (c/n 28-2792)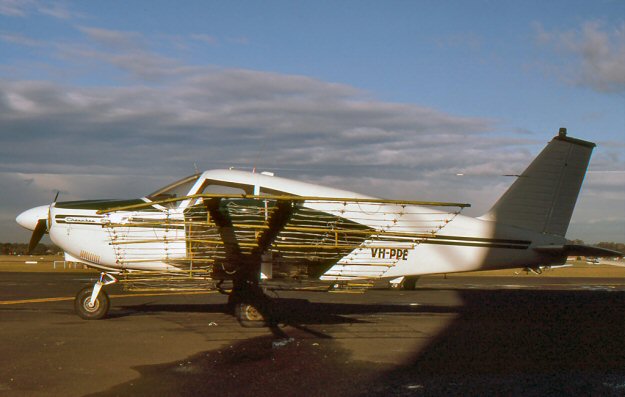 VH-PPE was registered in December 1966. The 1976 register listed the owner as Narrogin
Flying Club, in WA's wheat belt. It was damaged at Kulin, WA, in March 1982, damage so
minor it was back on the register two months later. When David Carter it at Bankstown on
a frosty winter's morning in 1987, it was fitted with an array of frames, wires and lights as an
airborne advertising sign. "Only in Oz" would one see such an evolution! In fact, I am sur-
prized that CASA didn't have fits and conniptions about all that hardware (I know DCA would
have when I worked there back in the 1950s), but maybe the owner didn't tell 'em! -PPE was
damaged at Parafield soon after, on September 9, 1987, and never flew again. It is not known
what affect the array had on the performance of the aircraft.