VH-PNK Piper PA-31-210 Navajo (c/n 31-72)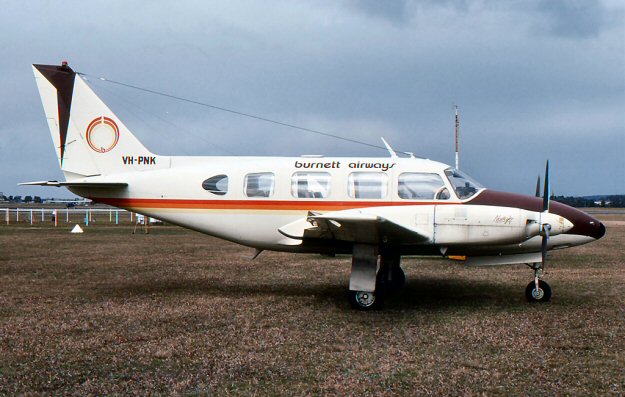 VH-PNK was the first of two Navajos sold to Papuan Airlines (Patair). Ferried to Australia
as N9049Y, it was delivered in December 1967 as "Mount Giluwe". It was withdrawn from
service in November 1970 but did do some flights for Ansett Airlines of Papua New Guinea
which had acquired Patair. The aircraft passed to Ansett General Aviation for disposal and
in November 1971 it was acquired by Queensland third level airline Burnett Airways.
–PNK was used on scheduled service from Eagle Farm to Monto and Biloela until the airline
ceased operations in 1976. David Carter's picture dates from that year and shows it at
Bankstown where it had been flown for resale. The Navajo passed through the hands of
two more owners before it was destroyed by fire in December 1982. It is not known where
the fire happened.