VH-PNB Douglas DC-3CS1C3G (c/n 26789)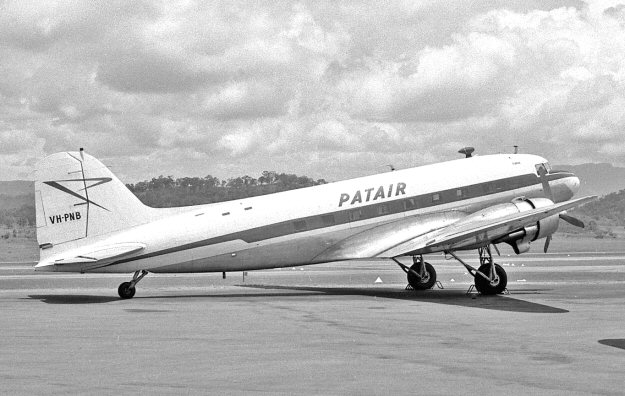 Like its sister aircraft VH-PNA, this DC-3 was a rather "late Model" as DC-3s go, although it
came to Patair via a much different route. . It was a former USAAF C-47B-15-DK with serial
43-49528 and was acquired by TPA Aloha Airlines of Hawaii as N62803 in November 1958.
It was sold to Patair in July 1961. It was later leased to Trans Australia Airlines' for their Sunbird
Services in New Guinea and made an emergency return to Madang, on 11 April 1972, where it
ove ran runway 25, into the sea. No hydraulics, no brakes, no steering. It then sat in the
TAA hangar for a year, then taken to the fire practice area. It was finally destroyed in 1973.
At the time the registered owner was Ansett Airlines of Papua/New Guinea. The above photo-
graph, from John Hopton was taken ar Port Moresby on Christmas Day, 1964, whilst the color
shot below at Bankstown is from the Ben Dannecker collection.