VH-PNA Douglas DC-3CS1C3G (c/n 16355/33103)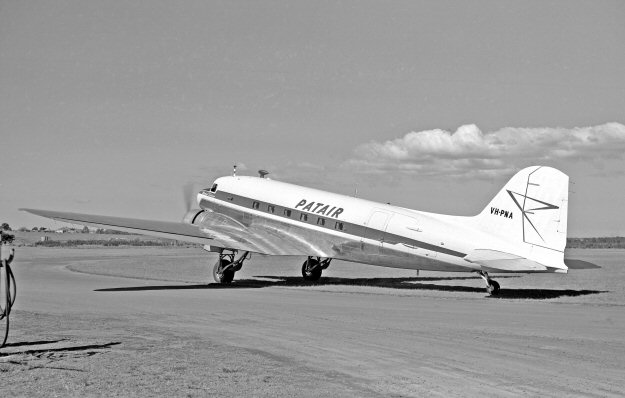 The images of -PNA above and below are via The Collection. Above, at Bankstown in August
1961 (ref p1789-2141) following a complete rebuild and below at Port Moresby on Christmas
Day 1964 ( ref p1789-2143). The color shot at the foot of the page is from the Ben Dannecker
collection. The aircraft was built as a C-47B-30-DK and was one of the last C-47s to be built
as wartime production, being delivered to the USAAF in April 1945, with serial 44-76711. It
went almost immediately to the RAAF under Lend/Lease as was given the serial A65-99.
Crashing 1.5 km south of Garfield, Victoria on 17 January 1958 it was written off by the RAAF.
It was then sold to Patair as is and rebuilt to airworthy condition by Bristol Aviation Services of
Bankstown during 1960-61, making its first test flight after the accident in August 1961. It was
transferred to Ansett Airlines of Papua/New Guinea in 1970 when Papuan Air Transport (Patair)
merged with ATA although was never repainted in Ansett livery. It lay idle in the fire training area
until 1973, when both -PNA and -PNB were dynamited. .