VH-PMR Bell 206B JetRanger II (c/n 358)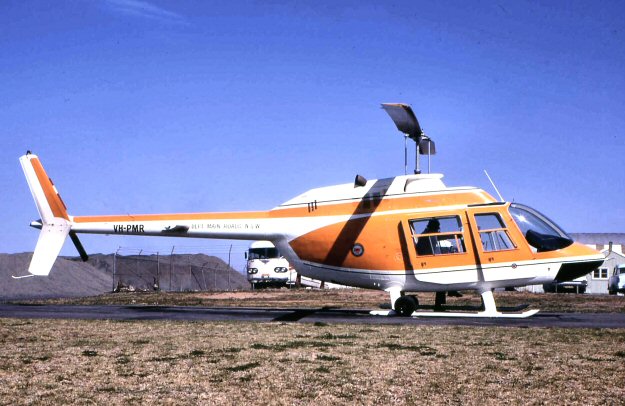 This JetRanger led a varied career before being re-registered VH-CSH(3) in 2004. It is seen in the
shot above by John Wheatley when brand new at Mascot in August 1969, operating for its first owner,
the NSW Department of Main Roads to whom it had been registered the prior April. Sold off by the
Department in the early 1970s, it went to Vowell Services (Pty) Ltd of Tyabb, Victoria with whom it
saw service in support of the Australian National Antarctic Research Expedition project (ANARE).
The photo below, from the Nelson Hopkins collection, shows it in situ in Antarctica in February 1979.
Returning to Australia in the 1980s it then saw service with the Port Hedland. WA Port Authority as a
ship pilot's craft. Massive iron ore carriers are loaded with iron ore at the port and presumably the
chopper was used to off load the pilots after they had ushered the carriers out of port. In the new
millennium it was in Queensland giving joy rides and later went back to NSW with Just Helicopters and
used as a fire fighting spotter. It crashed at Dunedoo on 22 November 2004, having by then been re-
registered VH-CSH. It was conducting aerial work in support of locust plague control in the Dubbo,
NSW area when it struck power lines.