VH-PMF Piper PA-28R-180 Cherokee Arrow (c/n 28R-30984)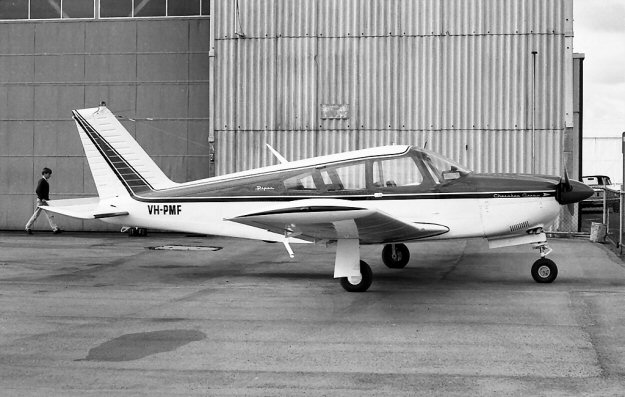 <> VH-PMF was registered in May 1970 and was seen soon after (above) by David Carter at
Mascot. On February 8, 1971 the aircraft suffered minor damage at Yunta, South Australia,
where it ran through a fence. It was back on the register in September owned by GA Mettam,
of Port Macquarie, dba Port Macquarie Air Services. . The shot below, by John Wheatley
shows it at Port Macquarie at around that time. By 1976 the Arrow had left Port Macquarie
and joined the fleet of the Darling Downs Aero Club at Toowoomba. >

The story then gets confusing. According so some sources –PMF was sold in Papua New
Guinea as P2-PMF in October 1978 and was registered P2-TAT in December 1979, then
converted to a PA28R-200 before returning to Australia in November 1981 to take up its old
registration. CASA's online database on the other hand states in December 2016 that –PMF
had been continuously registered since its return to the register after the Yunta accident (in Sept
1971) and that it was still a PA28R-180. In December 2016 the Arrow was based at Melton,
Victoria.