VH-PGU DHC-6 Twin Otter 320 (c/n 279)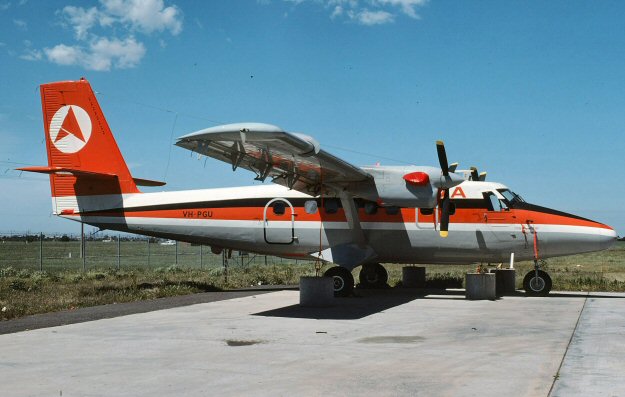 The registration VH-PGU can barely be discerned on the mid/rear fuselage on this MMA Twin
Otter. First-flown in May 1970 as N5227 for Floair, Inc, it was immediately resold to Ansett
Airlines of Australia. After service in Queensland for a couple of years it was transferred to MMA
in Perth in 1972 and operated on their Kimberly services. By then MacRobertson Miller were a
subsidiary of Ansett and so the desire to re-register this Twin Otter into the VH-MM series was
probably not a consideration.. The photo above, from the Geoff Goodall collection, was taken at
Paraburdoo, WA in June 1972. When MMA's Kimberly services were taken over by Trans West
Air Charter (WA) in 1978 the Twin Otter was withdrawn from service, ferried to Melbourne and
parked. It was sold in the US in May 1979 and delivered to Miami to become N934MA for Metro-
flight Airlines. After duty with several other operators in the US it was leased Maldivian Air Taxi
Ltd in 1995 as 8Q-KBM. It returned to Kenn Borek Air in May 1995 as C-GKBM, but then
returned to the Maldives in 1997 where it was fitted with floats as 8Q-MAI.. Steffen Schlabbach
caught it taxying out at Summer Island Village, North Male Atoll in April of 2007 (below) Note
the outrigger fins on tailplane to counteract the frontal side area of the rather massive floats.