VH-PGA Piaggio P.166 (c/n 374)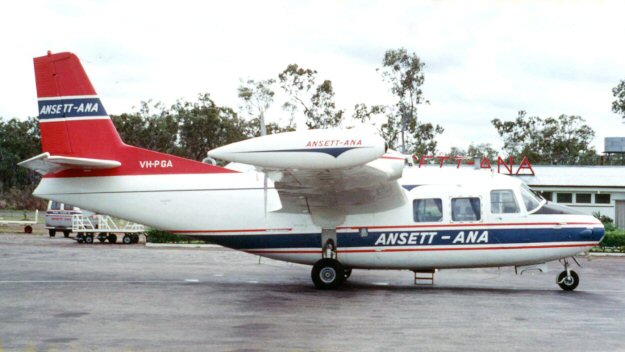 Built in 1961, this Piaggio was first delivered to Deutsche Nahluft in Germany as D-INLG. (see image
below from the Fred Niven collection taken at Frankfort circa December 1961. It was absorbed into
Air Lloyd's fleet when DNL merged with Air Taxi Gmbh). In 1964 it was sold to Ansett-ANA, arriving
at Essendon in August of that year. Ostensibly to be used on the Alice Springs - Ayers Rock run, this
plan was changed shortly after its arrival and it was dispatched to Queensland to operate the Mackay
to Proserpine (the Great Barrier Reef resort port), although it did do a stint under lease to Airlines of
NSW. Roger McDonald's nice color shot above was at Proserpine, Queensland in August 1966,
whilst Geoff Goodall's photo No 3 below was at Adelaide Airport somewhat earlier in October 1964.
In March 1968 VH-PGA was sold to Australian Piaggio agents Forrester Stephen Aviation at Essendon
for their third level services under the name Commuter Airlines, and later used for charter work by several
owners. Greg Banfield took the photograph #4 of it at Essendon 7 December 1974 wearing Forrester
Stephen Aviation titling. Advertised for sale in an aviation magazine in June 1980 with the catchy
come-on

"this grand old 10 seater still has a lot of life left in it.", it went on to two more freight oper-
ators, the last being Brolga Air based at Port Macquarie, NSW who planned to carry newspapers
to NSW north coastal towns. However maintenance costs forced its retirement, and it was acquired
by Pat Stewart of Green Valley Farm, Tingha NSW who has set the Piaggio up in his farm's children's
theme park.

The photo of it on the farm (foot of page) was sent to Roger McDonald by the owner.