VH-PAO Piper PA-24-250 Comanche (c/n 24-2298)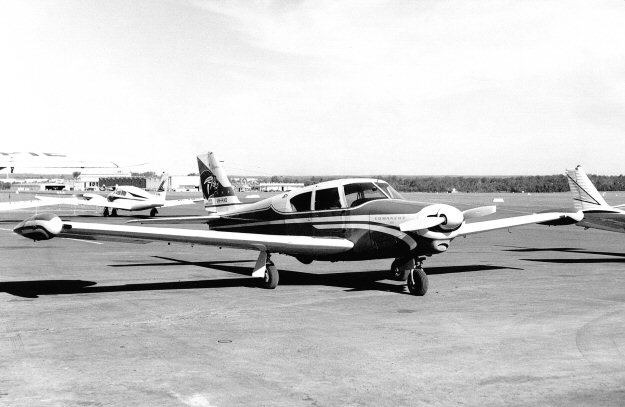 Here are three views of the same Comanche. Above, from the Ian Mackenzie collection shows
the aircraft in its original Piper livery at Bankstown in the 1960s when operated by a breeder of
Santa Gertrudis cattle. See enlargement of the tail, below. Do the long range wing tip tanks
indicate it was flown over from Lock Haven on delivery? Originally imported in August 1962 for
the Royal Newcastle Aero Club, ex N7133P, the aircraft had a series of owners in NSW before
going west to WA. The two photos below Ian's close-up are by Geoff Goodall, the upper one
showing the Comanche at Busselton, WA in April 1970, only a month after its purchase by local
owner Neville Hyder, whose farm included the WW2 Busselton RAAF airfield, complete with
blast-proof hangar. The photo at the foot of the page was taken at Dowerin, WA in August
1978 when the aircraft was visiting for an agricultural field day. Owned at the time by a farmer
at Cuballing in the WA wheat belt, the aircraft sported a striking new, and very 'Piper-like' color
scheme. VH-PAO is still current, and still in WA.