VH-NVT de Havilland D.H.82A Tiger Moth (c/n DHNZ165)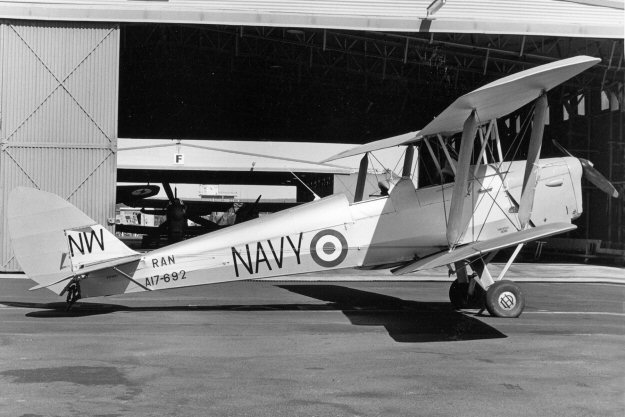 Theoretically, this Dave Freeman shot. via the South Australian Aviation Museum, should not be
part of this collection, since the aircraft was not registered in Australia until September of 1986.
However, it is a lovely photo of a Tiger, plus the fact that the aircraft

was

civilianized in New
Zealand in 1969 as ZK-DAM. It had seen service with the RNZAF as NZ1485 and then as
Instructional Airframe 151. Exported to Australia, it became VH-JKE before being re-registered
-NVT ( for 'Navy Tiger'?) and painted up as 'A17-692' and coded NW for RANAS Nowra, NSW.
as one of the few Tigers operated by the RAN . It is seen above at Nowra in 1987 whilst owned
by Ken Aldmerman and operated in conjunction with the Navy Air Museum at that base. Below is
a shot by Ian McDonnell taken at a RAAF air show at Richmond in 2006, having been restored
following a crash into the sea off Fraser Island, Queensland on 8 July 2003. As can be seen, it has
dropped its RAN markings (what a pity) and was given more conventional RAAF traing colors.
Oddly it is now on the CASA register with the c/n 1485R, obvoiusly some quirk of its RNZAF\
serial!