VH-MWF Cessna 402 (c/n 402-0136)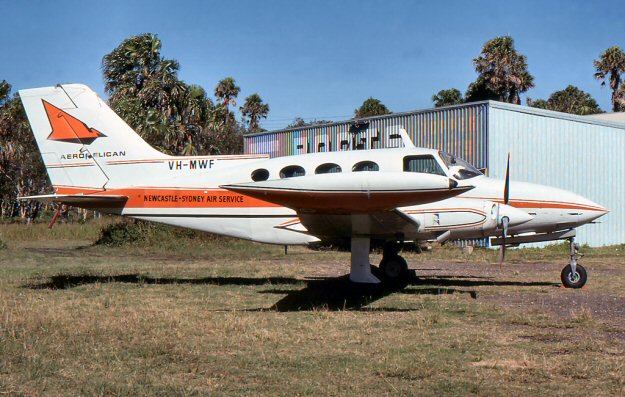 VH-MWF was the third of four Cessna 402s bought by Masling Airlines to operate third-level
airline services from its base at Cootamundra. About this time East West Airlines and Airlines
of NSW were withdrawing their DC-3s leaving smaller towns without air services. VH-MWF
was delivered in November 1967 and was still in the fleet when Masling went into receivership
in September 1970 The receivers sold –MWF to Aviation Centre at Bankstown who sold it
to Aeropelican Airlines in 1971 for a commuter air service linking Newcastle Belmont airport
with Mascot. David Carter's photo shows the Cessna in full Aeropelican colours at Belmont
in May 1976. Aeropelican replaced its 402s with Twin Otters starting in the late 1970s.
and –MWF was being operated by North Australian Air Charters, of Townsville, as a freighter
when, on February 26, 1986 it had an uncontrolled engine fire and made an emergency landing
at Rockhampton, where the fire was extinguished Clearly the damage was not too severe as
seen in Danny Tanners shot of it (below) at Townsville, a couple of months after the incident.
In March 1992, the hard-working 402 was withdrawn from use.