VH-MUX Victa Airtourer 100 (c/n 22)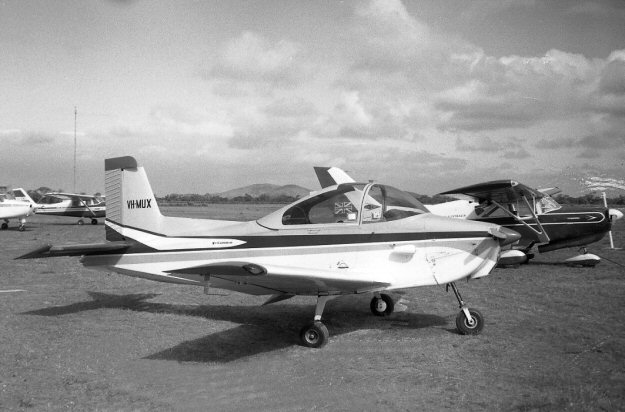 Originally built in July of 1963 as VH-WEN, for the Ballarat Aero Club, this Airtourer became
VH-MUX when the club sold it off. The shots above and immediately below are both from the
Geoff Goodall collection. The image above was taken at Whyalla in May of 1965. By 1974
VH-MUX had moved to Jandakot where Geoff saw it again sporting a rather smart paint scheme
(immediately below). Barry Maclean's shot at the foot of the entry was taken at Mt. Galore,
NSW, probably in the in early 1970s, since it is still wearing its standard Victa livery (and few
owners ever seem to repaint them in the livery in which they left the factory) albeit with a fuselage
mounted rego. This Airtourer is still on the register and is currently living in Wagga Wagga, NSW.
Phil Vabre saw it there in October 2010 (foot of the page) wearing a now non standard Victa
paint scheme.