VH-MRD Auster J/5G Cirrus Autocar (c/n 3064)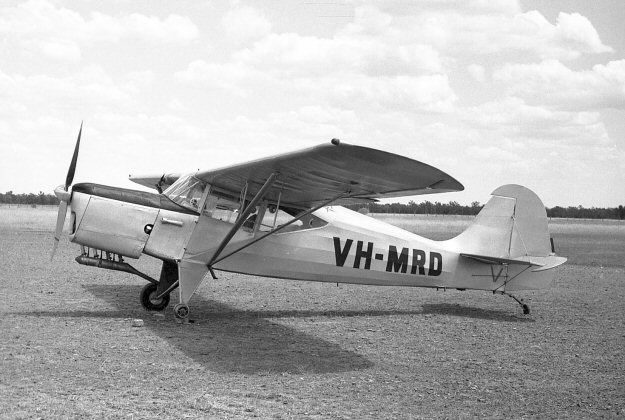 Here's an Auster which did not wish to be mis-identified. Looks like the rego has been painted
on with a tar brush. Photo above by Bob Neate (via the Geoff Goodall collection) taken at
Forbes, NSW in February 1964 while waiting for the port main wheel to be repaired. This
aircraft was the ex-Royal Australian Navy's A11-301. It had been acquired by that arm in 1953,
the Autocar having previously been slated to become PT-ANO in Brazil (ntu). It was sold from
RAN disposals at Nowra, NSW in 1963 and was owned by E.J. Davis of Corowa at the time of
the above shot. Withdrawn from service in 1972, it was restored in 1975 in (no surprise) it's old
RAN livery as A11-301. Actually, at some point in its naval career it should have become N11-301
but so far as research can tell, that identity change never happened. George Canciani's shot of it at
Essendon (below) in was taken in 1976, just after its restoration. This Auster is still current and is
registered to an owner in Victoria.