VH-MPO Callair A-9A Quail (c/n 1207)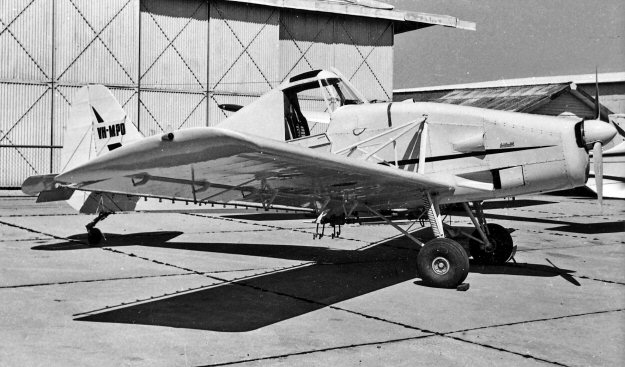 This Callair has probably had more crashes and rebuilds than any other of its ilk on the Australian
register. Soon after being registered to Pay & Williamson Pty Ltd of Scone, NSW, it had its first
accident.. Testament that it was nicely repaired is the photo above from the Geoff Goodall
collection showing it at Bankstown in August 1966 ready to return to cropsraying duties. Then,
on 14 January 1967 it it crashed again, this time on take-off near Wee Waa, NSW. The aircraft
had stalled at tree top height in an overloaded configuration. The pilot failed to jettison the load
and the result is shown in Geoff's second image, immediately below, taken at Scone in July 1967.
Strong though the pilot's cage was he did, nevertheless, sustain serious injuries. VH-MPO lang-
uished at Scone then for a number of years and was re-added to the register in August 1973.
Following two or three more accidents and rebuilds, it spent time with Superspread (Leafair P/L)
at Moorabbin between 1984 and 1989. In 1990 it joined the Gliding Club of Victoria at Benalla
as a tug. At the bottom of the page is a photo from the Ken Tilley collection taken at Benalla, Vic
in November of 2000. It is still current and registered to a private owner in the Melbourne area.