VH-MML Douglas DC-3CS1C3G (c/n 16197/32945)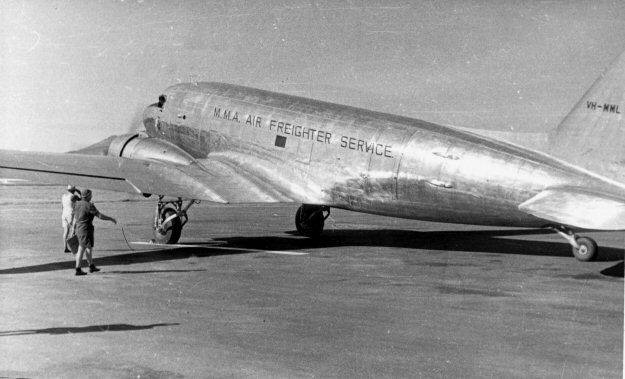 This DC-3 was built as a C-47B-30-DK with serial number 44-76613. It went to the RAF in 1945
as a Dakota Mk IV and was serialed KN470. Returned to the US under the terms of Lend-Lease
it wound up, in 1947, with the Pakistan Air Force as H-717. In 1954 it was purchased by Field Air-
craft Services Ltd and registered G-ANMA. It was then onward sold directly from Karachi to Mac-
Robertson Miller Aviation and arrived in Perth in February 1954. It was converted into "windowless
wonder" standard as a freighter, the windows having been faired over to hopefully reduce cabin heat.


The above photo by Colin Hayes (via Geoff Goodall) shows - MML as '

RMA Lyndon'

at Wyndham,
WA circa 1955 while in use on the "Air Beef Scheme" carrying freshly killed meat from cattle stations
to the meatworks at Wyndham. The image from my own collection (immediately below, #2) was
taken earlier before the Air Beef scheme officially got under way, at which time the aircraft had been
named

'Gascoyne'.

This was changed later to '

Lyndon'

to bring it into line with the company's policy
of naming its aircraft match the last letter of their rego. Photo # 3 is an evocative one from the Goodall
collection showing - MML in later MMA freighter markings at Fossil Downs Station, inland from Derby,
WA in October 1957 having just delivered prize stud cattle from Perth. Finally, the picture at the foot
of the page (# 4) shows - MML at Perth June 1968 now in passenger service, and wearing the latter-
day MMA livery. It was retired later that year with a total time of 25,953 hours and sold to Ansett
Airlines of Papua New Guinea. It departed Perth on delivery on 10 January 1969, it was later regis-
tered P2-MML, and P2-ANV later still. It returned to Australia in 1977 becoming VH-BPN for
Bush Pilots Airways. In 1982 it was registered to Air Queensland, and in 1988 to Air Rambler (Aust)
Pty Ltd who were trading as DC-3 Australia. It has had a couple more owners since then and is still
around with Discovery Air Tours hopefully awaiting a restoration.



2.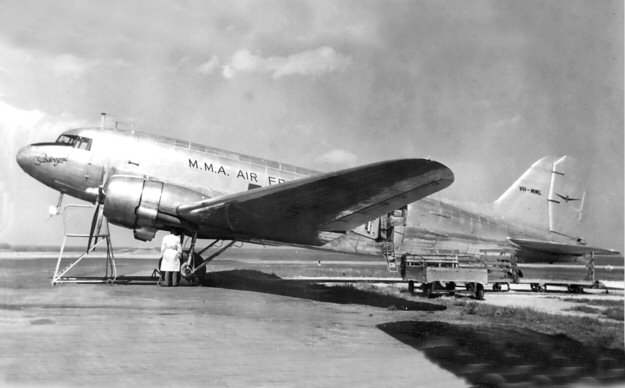 3

.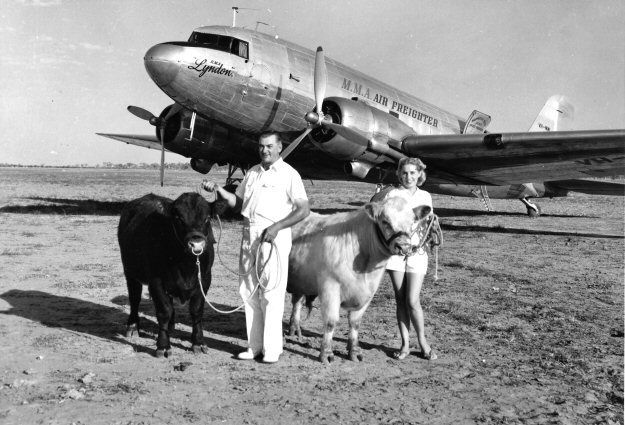 4

.