VH-MMK Douglas DC-3CS1C3G (c/n 19950)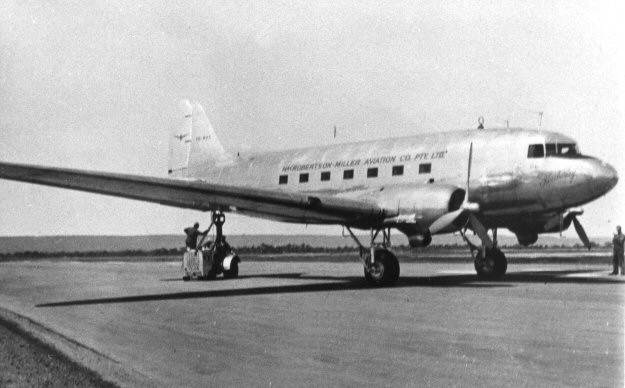 VH-MMK was a former C-47A-85-DL (USAAF serial 43-15484) which went to Brisbane in
April 1944 for the use of General MacArthur and his staff. In 1946 it was leased from the
USAAF by Australian National Airways using the call sign VHCXL. Ostensibly returned to the
USAAF in 1947 it was, in reality, immediately given over for civilian conversion and became
VH-BHB for the Zinc Corporation (t/a Silver City Airways). As an aside, for some inexplicable
reason, photos of Silver City's DC-3s are virtually nonexistent. Anyway, after flying Zinc Corp
execs around for a couple of years out of their Broken Hill headquarters, and following a brief
charter to Qantas, this DC-3 was sold to MacRobertson Miller Aviation as a freighter, and regis-
tered VH-MMK. The above rare company shot (from the Geoff Goodall collection) shows it in
MacRobertson Miller Aviation titling, (undergoing a compass swing, perhaps?) taken prior to the
company's merger in 1955 with Airlines (WA) Ltd, after which the carrier became known as
MacRobertson Miller Airlines. In the early 1950s -MMK had been converted back to a 28 seat
passenger airliner, retaining the name

'RMA Kimberly"

. (Odd, since MMA liked to constantly
rename their airliners). Merv Prime's nice photo immediately below shows it at Perth in 1968 as
a MacRobertson Miller Airlines passenger aircraft, (although note freighter door). In June 1968
it was advertised for sale, withdrawn from MMA service, and brokered by Australian Aviation
Sales (ATC) Pty Ltd in whose titling it appears in Nigel Daw's photo at the foot of the page, taken
at Perth Airport in June 1969. Immediately after this photo was taken the DC-3 departed Perth on
a delivery flight to Taiwan's Far East Air Transport where it became B-257. In 1974 it was
acquired by American Bob Ferguson of Singapore as N86AC for his Southeast Asia Air Transport
and used along with many other Douglas and Convair types on clandestine mercenary transport
sorties in Cambodia and Laos as described in the highly recommended book "The Pig Pilots of
Phnom Penh". As N86AC it was destroyed on 9 January 1975 when it was hit during a rocket
attack on Phnom Penh Airport, Cambodia.