VH-MMJ (2) Fokker F.28 Fellowship (c/n 11013)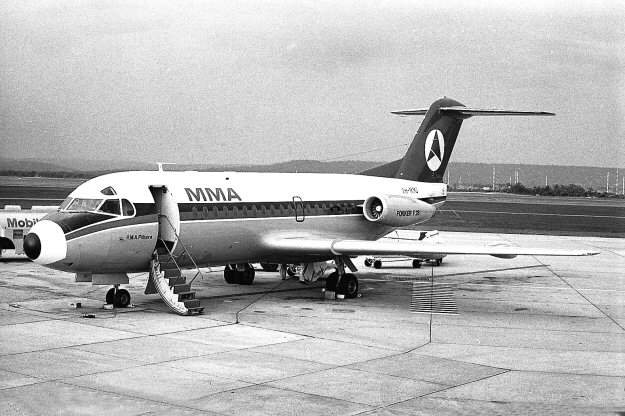 Here's VH-MMJ

"RMA Pilbara"

at Perth November 1969 in this evocative shot by Geoff Goodall,
It was leased from the manufacturer and was originally slated for delivery to Braathens Safe in Norway.
It was the precursor of half a dozen or so Fellowships which were to see service with MMA, although
the only one with a -MM rego. By the time ordered aircraft were introduced to the fleet, Ansett had
taken over and they were left in their Ansett-style VH-FK series. At the time of this photo -MMJ was
fitted with a temporary white nose cone, which was referred to as its "Aussie zinc cream nose". (So
fierce was the WA sun that even airliners needed protection?). VH-MMJ was returned to Fokkers
in 1970 when the first owned machine (VH-FKA) arrived. It was then refurbishment and delivered
to its rightful owner, Braathens Safe as LN-SUO. It had averaged an astonishing 8.5 hours/day during
its time with MacRobertson Miller. This, for an aircraft operated on relatively short-range stages.