VH-MMF Douglas DC-3CS1C3G (c/n 12540)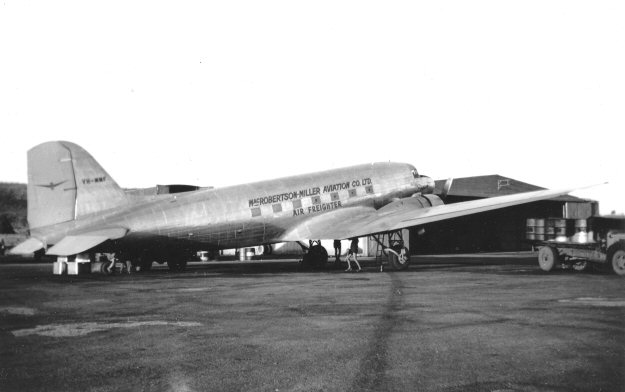 Above is a rare shot (by Phil McCulloch via Geoff Goodall) of a DC-3 in MacRobertson Miller
Aviation Co Ltd titling at Wyndham, WA in July 1949. Built as a C-47A-10-DK Skytrain for the
USAAF with serial 42-92709 it was immediately seconded to the RAAF as A65-41 (call sign
VHCUK). Civilianized in February 1949 from RAAF Tocumwal stocks, it went to MMA as an
air freighter for the Air Beef scheme and was named

'Durack'

. Note the windows still have their
military gun holes. The epic Air Beef operation carried freshly killed beef from cattle stations in the
far north Kimberley district of WA to the meatworks at Wyndham, and was operated for many
years by MMA DC-3s and ANA Bristol Freighters in arduous hot weather conditions year round.
VH-MMF was later converted to 25 passenger configuration and renamed '

RMA Fortesque'

.
My shot below (# 2) showing it with that latter name was obtained from MacRobertson Miller
Airlines in the 1960s, while Nigel Daw's photo (# 3), taken a decade later illustrates it in identical
pose at Adelaide on 14 March 1970 whilst it was on its ferry flight from Perth to Ansett Airlines
of Papua New Guinea, still in full MMA metallic scheme. (MMA never did utilize white cabin top-
ping, even up until the time of their take-over by Ansett). It had been retired with the other MMA
DC-3s in late 1968 and stored pending disposal, but was pressed back into MMA service in Nov
1969 on freight work out of Port Hedland, then on the Perth-Kalgoorlie passenger service in Dec
1969 for 3 months before its sale to Ansett Airlines of PNG on 9 March 1970. It remained in
New Guinea until 1973, and in 1974 was leased to the short-lived Air Tasmania who later purchased
it. Image # 4 below (from the Geoff Goodall collection) saw it at Essendon in August 1974 whilst
freighting for Air Trasmania, albeit still in basic Ansett Airlines of Papua/NewGuinea livery. .After
that (September 1977) it was sold to the Melbourne night freight operator Forrestair Pty Ltd.
Following a relocation to Camden, NSW, in the 1980s the aircraft was involved in some film work
on the movie "Sky Pirates". It was later (around 2002) moved to Bankstown where it is now the
subject of a restoration project, although just what the status of this is, I have no idea.



Footnote:

The ex ANA DC-3 VH-ANW (c/n 13624) became part of a McDonalds restaurant
attraction at Midland, Perth in the late 1980s and was displayed in fictitious MMA markings as
VH-MMF. No relation to the above aircraft whatsoever.



2.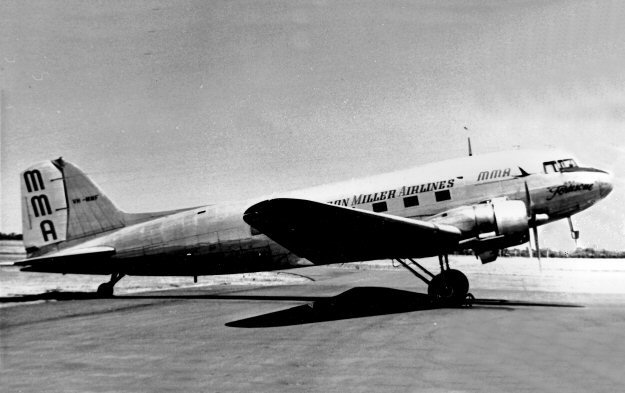 3.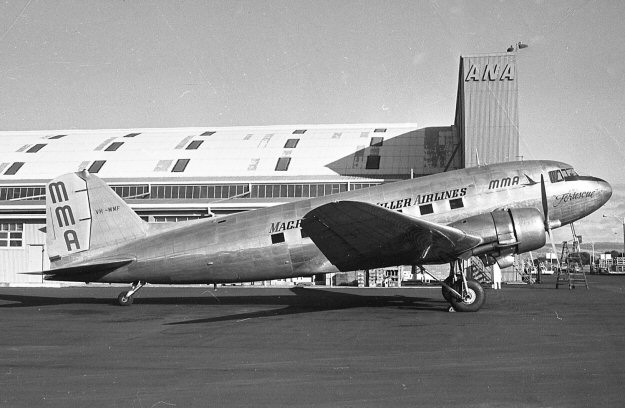 4.