VH-MME Douglas DC-3CS1C3G (c/n 9350)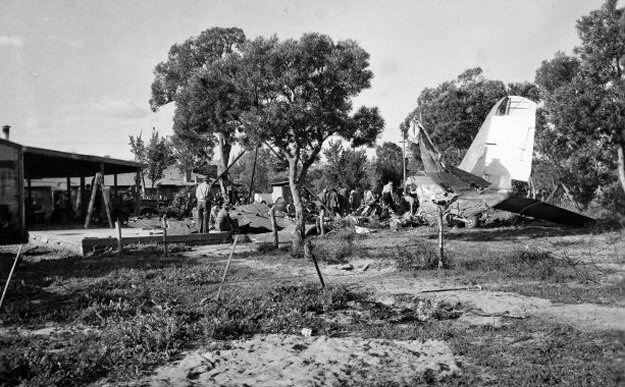 VH-MME (

'RMA Fitzroy')

was an ex C-47A-20-DL (42-23488) first civilianized in 1947
for Mac-Robertson Miller Aviation as VH-AXM. The following year it was to have been
re-registered -BXM (when it was determined the VH-AX series conflicted with the Q-codes).
In the event, the registration VH-MME was applied for and granted in December 1948, and
hence the actual registration -BXM was never painted on the aircraft. On 2 July 1949, whilst
taking off from Perth at night it crashed into sand, amongst trees, at Allawah Grove Army Camp,
just off the northern boundary of the airport. The subsequent investigation showed that the
cargo had been incorrectly stowed resulting in the CogG being well beyond the aft limit, causing
loss of control when the aircraft became airborne. The aircraft stalled and plunged into the
ground resulting in the tragic deaths of the four crew and 14 passengers. The above shot of
wreckage is from the Geoff Goodall collection.