VH-MMD (1) Lockheed 10A Electra (c/n 1130)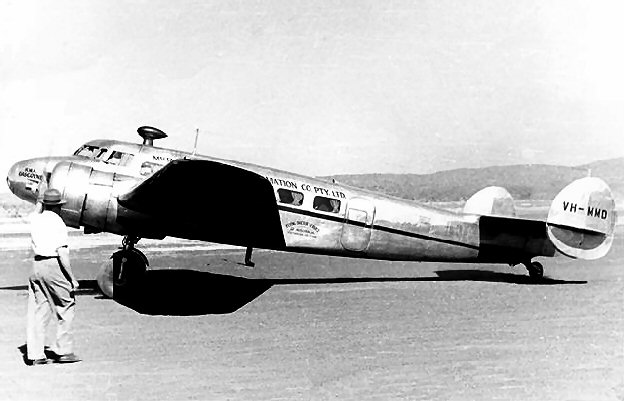 The two shots above and immediately below were taken by Colin Hayes (via Geoff Goodall) and
show the Lockheed 10A VH-MMD

"RMA Gascoyne"

at remote Halls Creek in the far north of
WA in 1953 during its last year of service with MMA before sale to USA. Colin was a DCA
radio technician who was enjoying a plum posting of two years in exotic Halls Creek, WA where
the temperature rarely drops below 40C! Formerly VH-ABV, this Electra was one of two
(the other was VH-ABW) operated by MMA from 1939 until sold off in 1954. These aircraft
were originally used on the Perth-Darwin route. Both had several accidents and -ABW was
written off in a crash at Broome, WA in 1946. VH-ABV was relegated to service in the Kimberly
area in 1946, based at Derby, W.A., where it operated MMA's services to remote cattle stations,
often carrying Royal Flying Doctor Service medical personnel. VH-ABV was re-registered
VH-MMD in October 1948. It was sold in the US in 1954 as N4886V (as seen in the shot at
the foot of the page in Suburban Airways titling by William T. Larkins). It had a succession of
owners in the US and was finally retired at the National Museum of Naval Aviation at Pensacola,
Florida, where it is, I believe, awaiting a static restoration.