VH-MLE Piper PA-18 150 Super Cub (c/n 18-7028)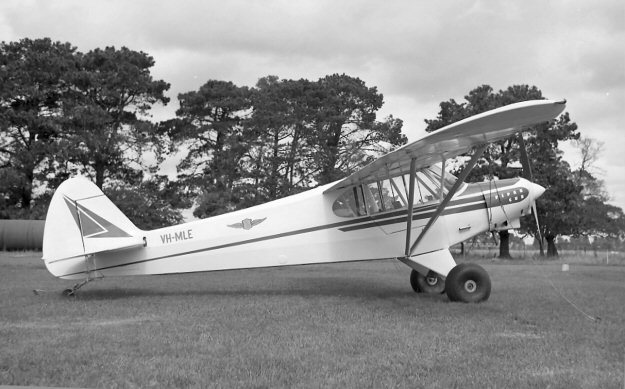 This 1959 model Super Cub is sporting low pressure balloon tires for soft beach landings.
Geoff Goodall took the above shot at Berwick, Victoria in February 1969. No other details
as to ownership. It appears to be carrying a flying club badge on the fuselage. Further, I
don't remember ever seeing a PA-18 with a "Piper Cub" slogan on the nose like this one has.
The color shot below came to light in August 2009 and was found by John Willis in a long-lost
drawer at the Latrobe Valley Aero Club. It was probably taken around 1960 and shows the
aircraft at that airport whilst owned by Mitchelson Brothers fisheries of Lakes Entrance Vic.
It would appear that the original option for soft beach landings employed the double-bogey
treatment as seen here. The Super Cub was used mainly as a fish spotter, hence the need for
low pressure balloon tires, to effect landings on adjacent beaches.