VH-MKY Piper PA-22-160 Tri-Pacer (c/n 22-7193)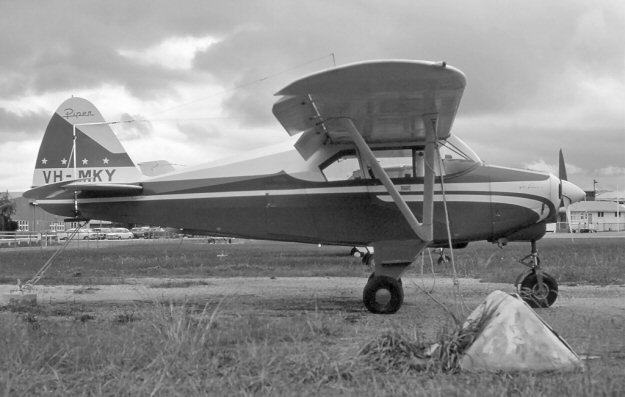 Registered VH-CJD from February 1960 to November 1963, this Tri-Pacer was owned by
Meteor Downs Pastoral Co of Springsure, Queensland. When it was replaced by a Cessna
182B, which took up the markings –CJD, the Piper became VH-MKY. In the mid 1970s
it was in the southern states, registered to a Sydney owner in 1976, and photographed on a
a gloomy overcast day.in 1978 at Wagga by David Carter. It still looked nice in its standard
Piper livery. Danny Tanner's earlier shot below in identical juxtaposition shows it in the long
grass at Lilydale, Vic in July 1972. –MKY returned to Queensland and was owned by a
farmer at Giru when it was destroyed on June 15, 1982. Piloted by the farmer's son, who
was the only person aboard, it cartwheeled into trees on approach to the farm strip. The
cause of the accident was never determined.