VH-MKV Auster 5 (c/n 804)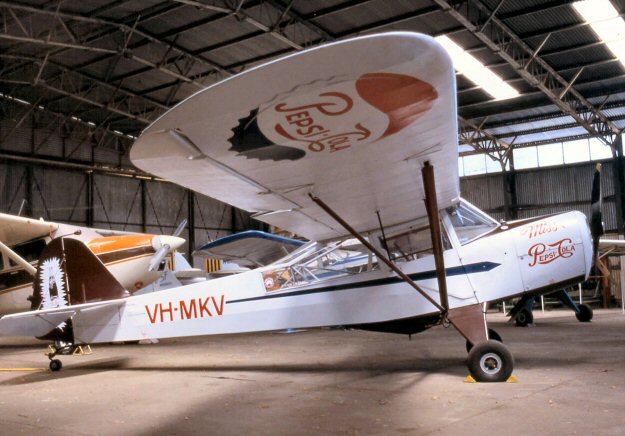 The following history of this aircraft comes from Auster historian Ian W.O'Neill:
<>
Built as Auster Mk.IV MS939 during January 1944. SOC from RAF 25 March 1948 and eventually
civilianised as an Auster 5 registered as G-AJYP on 20 April 1950 to R.Pointer, Anstey, Nr Coventry.
For some unknown reason (default in payments??) the company took the aircraft back during May
1952 and then converted it to carry neon tubes advertising Pepsi Cola. The two later conversions
were known as Auster 5M although this designation was not officially applied to this aircraft.
Registration cancelled 27 June 1952 as Sold to Singapore. Re-regd VR-SDQ (1952?) and named
Miss Pepsi Cola. Registration cancelled 19 Jan 1959 as Sold to Australia for Spares. It was then
owned by Betty Baudin, of Balmain, NSW but never registered by her although at one stage was
painted up as VH-SDQ. Was under restoration by 1989 by David Draper, Parkdale, Vic who,
according to the Auster Club magazine 1991/3, reserved the marks VH-AJH but these were NTU.
(This has never been confirmed). Eventually registered VH-MKV 30 May 1997 to T.Tiffin, Merungle
Hill, NSW and current since 10 Aug 2000 to L.D.Crimeen, Ballarat, Vic.

The above image is from Ian's collection, although the provenance of the photograph is not known.

The machine has recently undegone another restoratioon and re-emrged (naturally) as a 'war-bird'
as seen in Phil Vabre's shot below taken at Ballarat in March 2011.