VH-MJL Piper PA-23 Apache 160 (c/n 23-1051)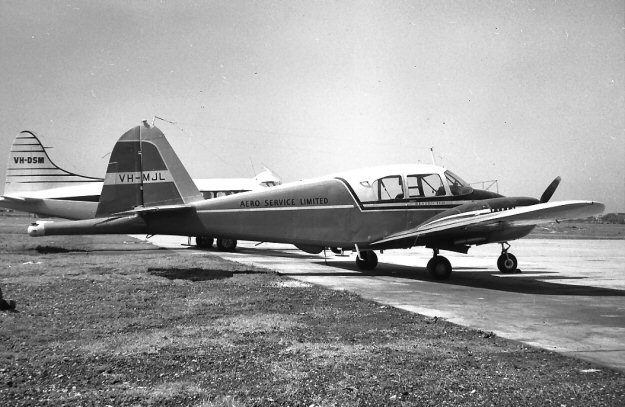 Morrie Lawrence formed M. J. Lawrence Holdings in the late 1950s to operate as the Australian
division of the world's largest aerial survey group, Aero Service Corp of Philadelphia. Its first air-
craft was this rear magnetometer boom equipped Apache. It was formerly N3128P and was one
of several similar aircraft owned by Aero Service. Prior to coming to Australia (from Hong Kong)
it had seen survey service in Alaska, Korea, Loas and Thailand (the latter two venues in a non-covert
capacity!). It was first registered in Australia on 12 August 1960. Geoff Goodall's shot (above) was
taken at Mascot in September 1965. Apache -MJL had a change of ownership on 13 August
1965 when Morrie Lawrence parted company with Aero Service Corp (forcing Aero into new
arrangements) and Gale Air became the new aircraft holding company and Aero Service (Bahamas)
Ltd. was re-activated as the operating company. . In March 1966 it was sold to E.F. Cruz and Co
in Manilla (the Aero Service Corp agent in the Philippines) and became PI-C907. Operator of note
was Certeza Aerophoto System, Quezon City.