VH-MJJ Aero Commander 680F (c/n 933-6)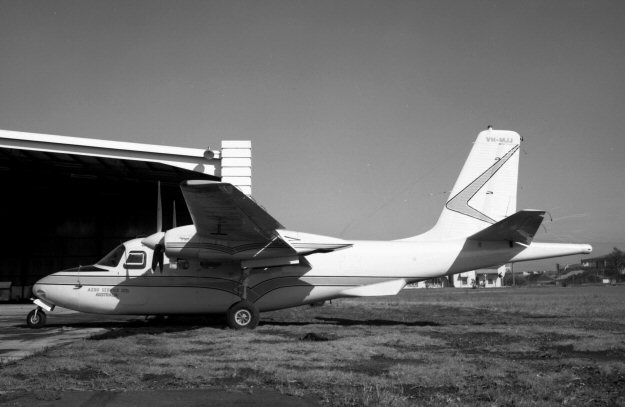 This Aero Commander was registered to M.J. Lawrence Holdings Pty Ltd in March 1965 for use
in the area of airborne geophysical surveys, as indicated by the magnetometer protruding from the
tail. I have darkened Greg Banfield's print of it (above) somewhat to try to bring up the rego which
was painted on the fin in the same light hue (probably blue) as the trim. This image was taken at
Mascot on 15 March 1965 some 4 days prior to its official registration. It had just arrived from
the US where it had been registered N6108Y. The titling under the cockpit states "Aero Service
Ltd. - Australia'. M. J. Lawrence Holdings was formed by Maurice J. "Morrie" Lawrence, one
of the main players at Camden in the 1950s and early 60s. He was a ground mechanic on light
and heavy aircraft and ran several maintenance businesses at Camden, including Lawrence Eng-
ineering Services which produced the 11 new-build Tiger Moths from spares, (c/ns LES-1 to -11).
In the 50s Morrie set up an aerial mineral survey company named Sepal Pty Ltd, and became the
Australian agency for World Wide Aerial Surveys and Fairchild Aerial Surveys in the USA. Sepal
was later sold off to rival Adastra Aerial Surveys. M J. Lawrence Holdings and Aero Service Ltd
operated as the Australian agency for the world's largest aerial survey company Aero Service Corp
of Philadelphia, Pa. VH-MJJ had an official change of ownership on 13 August 1965 when it was
transferred to subsidiary company Gale Air Pty Ltd. Seen below is a close up from another shot
taken by Greg in 1966 showing the Commander with different corporate titling, viz: "Gale Air Pty
Ltd -

in association with

Aero Service Ltd (Bahamas)". I suspect the Bahamas bit was Morrie
being cute with DCA who were giving him a hard time about operating American owned aircraft
under his Australian Airwork licence. The words 'Bahamas', 'British Virgin Islands' or 'Cayman
Islands' always give the connotation of something fishy going on (tax-wise) ..........which probably
was not the case here! VH-MJJ made several trips to New Zealand, New Guinea and Japan
before being exported in 1968 to Korean subsidiary Asia Aero Survey Company, as HL-2017.