VH-MCC DHC-1A-1 Chipmunk (c/n 22)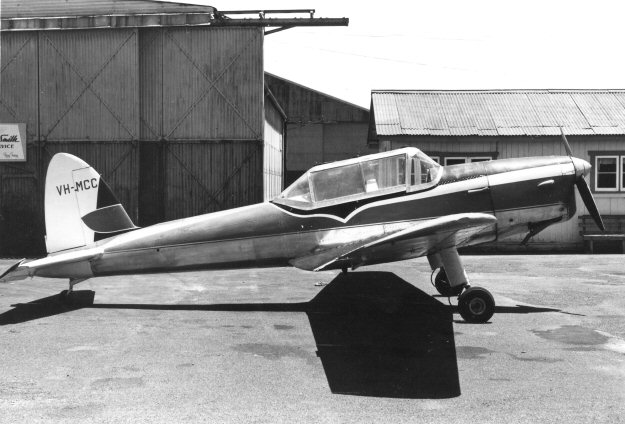 This photo, from the Geoff Goodall collection, was taken at Bankstown around 1962. (I just
love the fake Cessna livery!). This Canadian-built DHC-1 was the first Chipmunk registered
in Australia, going to de Havilland Aircraft Pty Ltd in December 1947 as VH-BFT. It was
loaned to the RAAF early in 1948 for trials, and returned to the civil register in April 1949.
In October 1949 it was sold to the Newcastle Aero Club. This club was granted a 'Royal'
charter in 1953 and accordingly their fleet were eventually re-registered in the VH-RN- series.
VH-BFT became VH-RNG (although, in the event, not until June of 1955). In March 1959
it had another change of rego, becoming VH-BBT(2) although this identity was short-lived, since
it was re-registered VH-MCC in October of that same year. Withdrawn from use in 1994, it
has now undergone a complete rebuild at Tocumwal, NSW, and had its first post-restoration
flight on 15 December 2010. Phil Vabre provides the shot below showing -MCC resplendent
in its sharp red and silver trim at a Tocumwal rally in October 2013. ..