VH-MBX Piper PA-23-250 Aztec B (c/n 27-2007)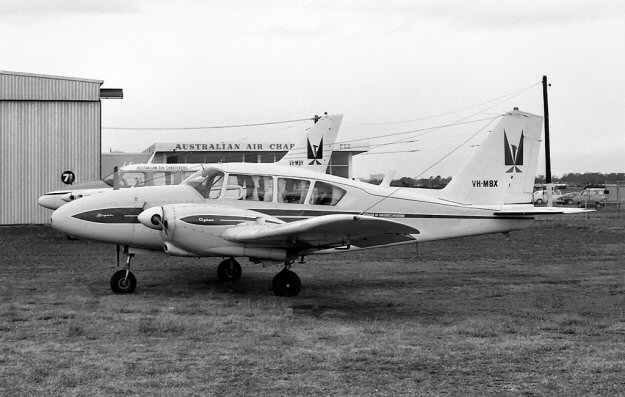 VH-MBX was delivered to Australian Air Charterers at Moorabbin in November 1967.
It was a used aircraft and had been N5007Y before flying to Australia . David Carter
photographed it at Moorabbin in December 1969 parked with a company Navajo (-MBY).
. In May 1972 it was registered to Essendon-based Civil Flying Services before a year later
starting a steady move north. Its first stop was Coffs Harbour where it was based from
May 1973 to November 1976 when it was sold in Hard-Facing Alloys of Brisbane. In
January 1983 –MBX was registered to a private Brisbane owner before being sold to
Kuch Aviation of Cairns in June 1984. The Cairns Port Authority seized the Aztec in
1992 for non-payment of parking fees and sold it by tender to the Queensland Air Museum.
The registration was cancelled in April 1993 and the aircraft trucked to the museum at
Caloundra, where it is displayed as TAA's VH-TGP.