VH-MAR Douglas DC-3CS1C3G (c/n 12035)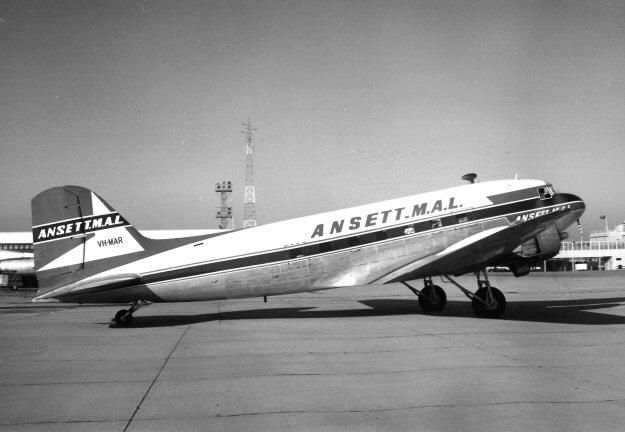 Built as a C-47A-1-DK Skytrain for the USAAF with serial 42-92255 this aircraft was subsequently
delivered to 35 Sqn RAAF in January 1944 becoming A65-25 (with the call sign VH-CTX). In 1948
it was acquired by Qantas and registered VH-EAR. Oddly, I do not have an image of it as such, prob-
ably because it spent most of its civilian life in New Guinea. Qantas sold it in 1960 to the New Guinea
Company (dba Mandated Airlines). By early 1961 Ansett Transport Industries took over Mandated
and the name was changed to Ansett-M.A.L. Greg Banfield's shot of it above was taken at Mascot in
1964. Unfortunately the sign painter got it wrong and it came out as Ansett

.

M.A.L. instead of Ansett-
M.A.L. This situation was rectified when the aircraft next came in for overhaul!. The above shot is,
therefore, somewhat rare. Ansett changed the name again in 1968 to Ansett Airlines of PNG. In 1969
it was sold, through aircraft broker Australian Aviation Sales, to Suelawah Air Services in Indonesia and
registered PK-RDF. It was subsequently re-registered PK-RDK in 1973. I do not know its final fate.