VH-KRT Piper PA25-235 Pawnee (c/n 25-3450)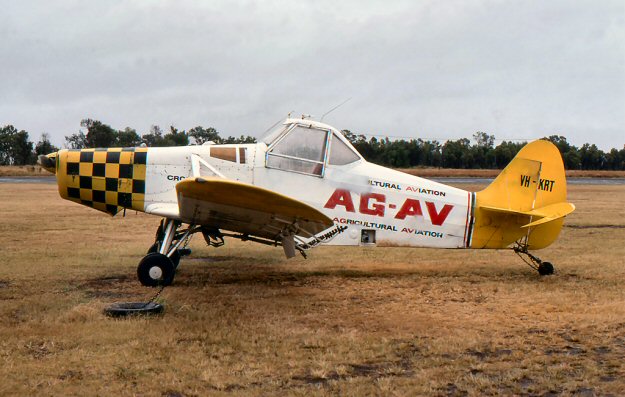 Agricultural Aviation, Ag-Av, was one the largest aerial agriculture operators in Queensland.
Its aircraft worked throughout south-eastern Queensland from its base at Archerfield. David
Carter caught one of its Pawnees, VH-KRT, parked at Thangool on April 28, 1976. The
aircraft had been FIRST registered in October 1965. Agricultural aircraft often spend long
periods off the register, sometimes due to accidents, sometimes because of a downturn in business.
–KRT was absent from July 1978 to March 1980 and from March 1983 to March 1985, with
the aircraft BEING shown as withdrawn from use. On February 1, 1986 it suffered an engine
failure on take off from Lady Barron airport on Flinders Island and was damagED. . It suffered
its worst accident on August 22, 1987 when it struck a tree near Nhill, Victoria, and crashed to
the ground killing the pilot. The wreckage was sold to Gippsland Aeronautics, which used
components to make one of the two prototypes of the GippsAero GA-200 Fatman. Production
GA-200s were manufactured from scratch. –KRT was sold in China in May 1993 as B-8512.