VH-KPF Cessna A185E Skywagon (c/n 18501771)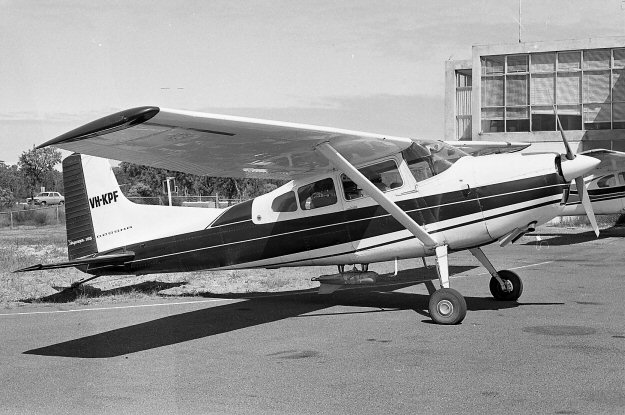 The photo above, by Geoff Goodall, was taken at Jandakot in October 1971 while -KPF was
with Kevron Photographs (Pty) Ltd. Note magnetometer bird stowed under the fuselage. This
aircraft was first registered in October 1970 (ex N5801J) to Kevron associate company Geo-
search Pty Ltd of Perth who later operated a GAF Nomad on mineral survey. Forty years on,
the Skywagon now earns its keep as a skydiving platform, as seen in the shot below by Ian
McDonell taken at its Cessnock, NSW home base in March 2008.. The fuselage legend reads
'Skydive Elderslie'. This is, I believe, the slogan of the Newcastle Sporting Parachute Club.
. As of mid 2009 this machine is no longer a "sky diver" and has regained its starboard door, as
seen in Ian's latest shot (foot of page) taken at Maitland, NSW in June 2009. .