VH-KPA Cessna 185B Skywagon (c/n 185-0549)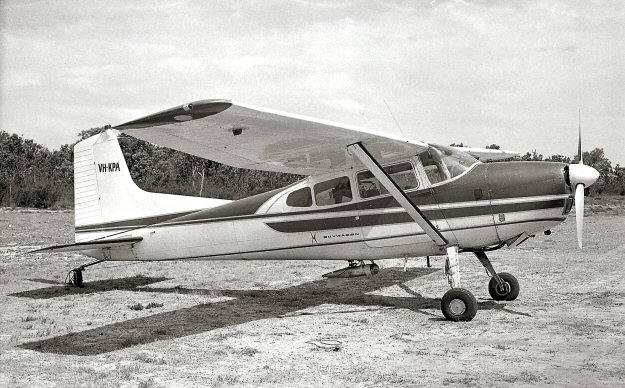 Kevron Photographs Pty Ltd commenced large scale aerial photographic survey in remote areas
in WA 1961 with the wet-lease of MMA DC-3 VH-MML which was modified to carry survey
cameras with two camera operators and a navigator. It was capable, with oxygen, for operations
up to 28,000 feet. Kevron purchased their first aircraft, the Cessna 185B Skywagon VH-KPA
seen above, in May 1963. The company expanded into magnetometer mineral survey and took
overseas contracts as far way as Iran. Geoff Goodall's shot of -KPA was taken at Jandakot in
February 1971. It was registered to Kevron Photographics (Pty) Ltd on 3 May 1963 and went on
to a long survey career. Note the magnetometer "bird" stowed under the fuselage. Its former US
registration was N2549Z. In 1964 it took part in the Brisbane to Adelaide Ansett Air Race and
was flown by A.W.Bagster. Greg Banfield took the shot of it below at Bankstown on 29 March
1960 wearing its race number 40. It was still with Kevron Photographs, and carrying their titling
in September of 1988 when Danny Tanner saw it at Parafield (foot of the page).