VH-KOZ Cessna 210G Centurion (c/n 21058905)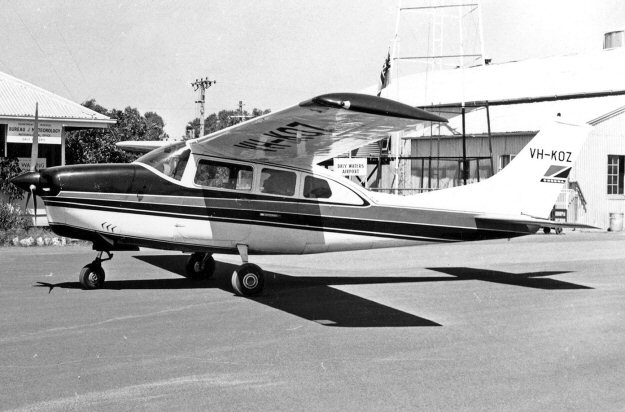 Geoff Goodall, from whom this Peter Limon shot came, indicates that Peter was flying it on a
"dead aeroplane hunt" around northern Australia with 3 other enthusiasts in October 1967. The
above shot was taken at Daly Waters, NT. Sadly, just over a year later Peter was back up in
Darwin taking another group, flying a brand new Cessna U206F loaned to him by his boss at
Flinders Island Airways, when he got caught under an extensive thunderstorm over on the NT/
Qld border. When attempting to divert to Daly Waters he ran out of fuel 10 minutes short of
that airfield at night, crashing in the desert killing Peter and his passengers. Many of the photos
in this collection were taken by Peter.
Registered new in July 1967, VH-KOZ flew for several owners, mainly out of Moorabbin. and,
was damaged by high winds at that locale in July 1975. Withdrawn from use again in 1981, it was
restored in 1992 as VH-TWC(3).