VH-KML Cessna 150E (c/n 15061043)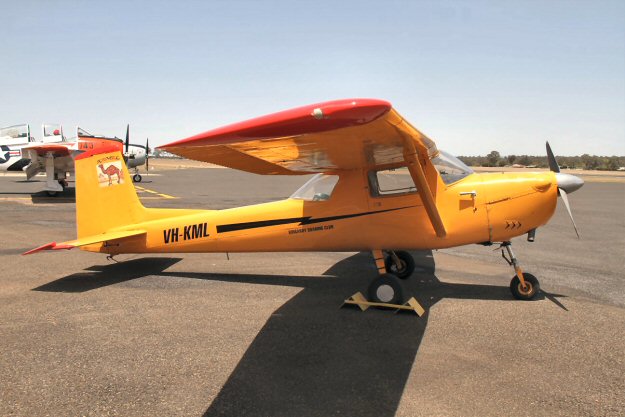 This Cessna (ex N2543J when delivered from Wichita) was originally destined to become VH-DMS.
For some reason several of these 1965 model 150Es which were to be registered -DM were re-regis-
tered immediately into the VH-KM series. (Probably a dealership request). -KML has had many owners
over the years and is now owned by the Kingaroy Soaring Club. It has served the club for many years
now, and, following a recent overhaul has now been fitted with a 180 h.p powerplant improving the
towing performance. Just what the 'Kamel' cigarette logo on the fin is I have no idea. In 1986 it was
being operated as a property maintenance hack in outback NSW and on 25 November if that year in-
volved in a non-fatal accident on a remote station some 96 K NW of Cobar following work by the pilot
and passenger on a bore pump. When taking off from the rough strip it struck the ground with the star-
board wing, following which the nose gear collapsed. Turns out the strip had not had the scrub cleared
for almost two years during which time the bushes had encroached onto the runway.