VH-KFA (2) Piper PA-22-150 Tri-Pacer (c/n 22-5602)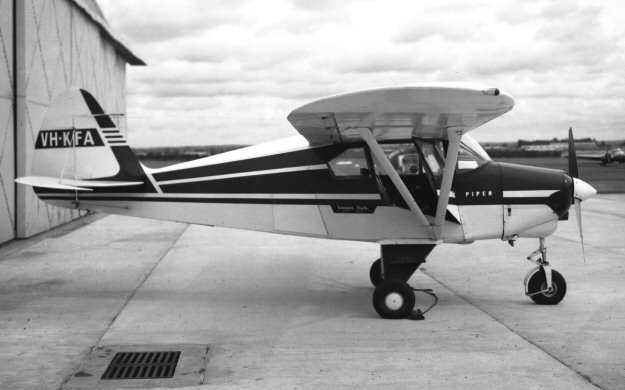 In my first narrative of this entry I came to the conclusion (incorrectly) that the two apparent
variations of the color hue were due to a difference in film and possibly filters used by two
photographers. The above image, by Greg Banfield was taken at Bankstown on 30 Dec
1962, whilst that below, by John Hopton from The Collection p5555-0467 was at the same
locale almost a year later in October 1963. A viewer to this site, Jim Oeffinger*, points out to
me that the paint jobs are, in fact, quite different and that a paint job had obviously taken place
between the taking of the two shots. The cowling and nose treatment of the later image, below,
varies considerably from that of the original Piper livery above. Based on these observations
it is entirely possible that the base color also changed in that ten month period. This aircraft is
stated, in DCA records, to be ex N8111D. Interestingly Jim* now owns a Tri-Pacer N8111D
(c/n 22-6184 registered in Illinois) which was first issued this number a scant six months after
22-5602. Even for Piper, that seems like a very quick re-issuing of an N number! I am
wondering if perhaps the machine arrived as VH-RSU, its original Australian rego or whether it
was actually painted up as N8111D when it arrived at Bankstown early in 1958 for the Royal
aero Club of NSW. . (Most imports of this era did arrive with their US registrations intact).
Anyway, at the time of these images it was owned by the Kingsford Smith Flying School, who
evidently installed (or re-installed) the wheel pants.. It was sold to the Nepean Flying School
at Camden, NSW in September 1965 and re-registered VH-WKA, which were for initials of
Wally Knight, Nepean's CFI. Sold by that club, it finally wound up as VH-RRD, an identity it
retains to this day.