VH-KDS Piper PA-30-160 Twin Comanche B (c/n 30-952)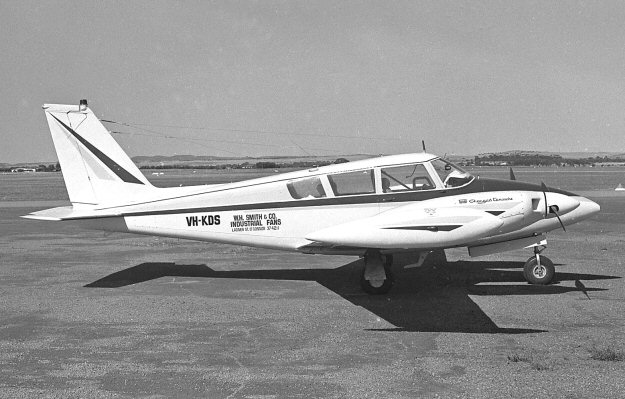 This Twin Comanche was first registered to Dayal Singh Constructions Pty Ltd of Tamworth, NSW
in April 1968 and used the initials of company founder Keith Dayal Singh who has owned a long list
of aircraft over the years. When the shot above, from the Geoff Goodall collection, was taken at
Geraldton, WA in December of 1973 the aircraft was owned by W.H. Smith & Co (not the bookseller)
an engineering company located in the south Perth suburb of O'Connor. It was still in its factory paint
scheme. It was photographed a few years later at Dowerin, (below) in August of 1978 when it was
one of many aircraft visiting the annual agricultural field day held at this WA wheatbelt town. By then
it had had a repaint job although was still owned by W.H.R. Smith of O'Connor. Smith later sold it
and it was current until 28 March 2010 when it was reported missing at 21:00 on the Sunday night
after it failed to return to Jandakot Airport following a flight to Northam. A police helicopter located
the crashed aircraft on the Monday at 08:00 in a wooded area near Sawyers Valley. Both occupants
were killed.