VH-KBU Auster J/1B Aiglet (c/n 2694)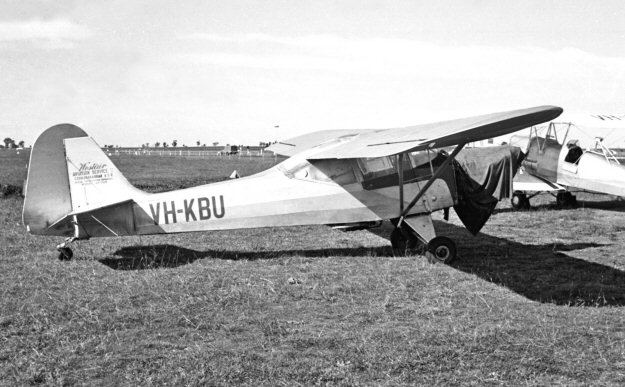 The photo above of -KBU was taken by Bob Neate at Coonanarabran, NSW in 1963 while
the Auster was being used for various agricultural duties by Westair Aviation Service. It had a
a hopper in the cabin and a dropping chute under the fuselage. The two shots immediately below
are both from the Geoff Goodall collection. In the upper image it is seen at Forbes, NSW in
April 1975. Forbes is about 100 km north and west of Cowra, on the way to Condobolin.
I know, because I once had a girl friend living in that latter far flung outpost! I didn't really belong
to the "farmer set" so the relationship soon cooled! Anyway, I digress. Back to -KBU. Geoff
saw it again in the next shot at an early morning fly-in (note smoke from camp fire smogging up the
gum trees) at Beverly, WA in November 1980. Although still on the register, current owner
Howard Jones advises that the poor old gal is not quite ready to take to the air again any time soon.
At the foot of the page is Howard's shot of it being moved from the hangar to his back yard workshop
in Langford, where work is progressing slowly, but surely, to make her airworthy again.